NCR Business Books and Pads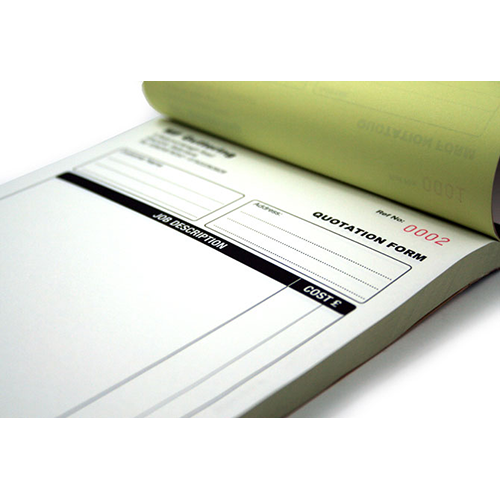 NCR stands for No Carbon Required and refers to paper stock that has been treated with a special coating. When glued together in sets of 2 or more sheets, the paper reacts to the pressure of a pen so that whatever is written on the first sheet of the form is copied onto subsequent parts of the form without the need for carbon paper.

Once the sheets have been printed they are collated together, then can be either quarter bound with hard covers, glued in notepad form or provided as loose sheet sets.

Depending on the business and requirements, NCR books, or pads, can be custom designed with logo, contact information and any other information relevant to the business. NCR paper is commonly used for purchase order books, invoice books, receipts, quote books, job books, contract books and site books. Whatever processes you have within your company where multiple copies are required, then NCR books are what you will need.

NCR paper comes in five colours – white, pink, yellow, green and blue. The quarter bound hard croc covers come in blue, red, green or black and you can also add wrap around inserts. They can also be individually numbered. The paper is also available in all sizes with the most common being A4 or A5 size.
When your business needs NCR (No Carbon Required) books or pads, the team at Copy Direct can help you out with quality printing, fast turnaround times and very competitive pricing.

If you need to keep your paperwork organised and traceable, we can print books, pads or loose-leaf sheets for tasks such as:
| | |
| --- | --- |
| Invoices | Quotations |
| Sales Orders | Purchase Orders |
| Consignment Notes | Warranties |
| Dockets | Fuel Usage |
| Receipts | Job Specifications |

Options To Suit Your Systems – And Your Budget
What size forms do you need?

How many copies are required?

Should they be loose, in a pad, or in a book?

What colour paper should the various copies be on?
Whatever the answers may be, Copy Direct can handle it at a very competitive price.

When printed as pads, your NCR forms are available in sets of 25 sheets, 50 sheets or 100 sheets and are supplied with a backing board.
As pads or books, the pages are perforated to make removal easy.

Original form plus two, three or four copies

Sequentially numbered with your choice of starting number

White, blue, green, pink or yellow paper options

Black printing (other colours available on request)

Optional grey printing of terms & conditions on reverse of page
Leave a professional impression behind using Customised Invoice Books/Pads. We can custom design an NCR book to suit your requirements and include your logo, address and other contact detail.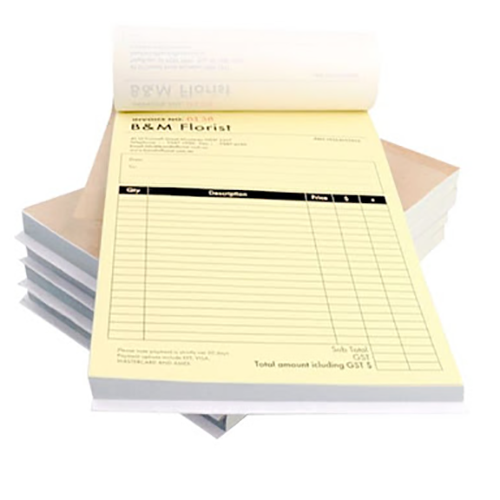 A5 NCR book quadruplicate (50 pages), with a hard cover (taped at the spine), box board backing, perforated on the first, second and third sheet and the carbonless quadruplicate remain in the book (if required).
Choose from a range of colours: White (first page), Blue, Green, Pink or Yellow.
Printed in black, other colours available on request.
Print 1 colour (grey) with your terms and conditions on the back.

All sheets are numbered in red ink, and you can specify the numbering range (books/pads are sequentially numbered).

Our clients love the fact that we provide a speedy turnaround service so they can get their books produced quickly.

We are very conscious of our responsibility to the environment and do all we can to reduce wastage of paper and other materials. Our many years of experience mean we can get the job done right for you.

Contact our friendly team today.