Compliment slips to thank customers
Create your own distinctive compliment slip to leave an impression on customers and congratulate employees for outstanding achievements. Reinforce your professional image with order payments, delivery notes and thank you messages on unique, compliment slips.

Copy Direct are colour print specialists serving the needs of companies, businesses, retailers, tradespeople, schools, clubs and individuals. Using the latest in high-speed digital equipment we guarantee accurate, high-quality printing of your letterhead.

Fast Turnaround

Printed on laser 100gsm uncoated stock


Full colour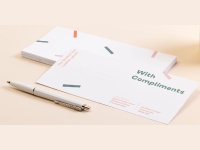 Contact us to discuss your Compliment Slip requirements with us Today!